Kempton Park Racecourse was the brainchild of SH Hyde, a 19th century businessman and a Tory party agent. It is said that he was enjoying a carriage drive in the country when he came across Kempton Manor and Park for sale. Hyde leased the grounds in 1872 and six years later in July 1878 Kempton opened as a racecourse.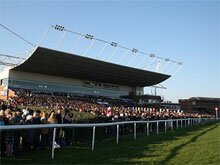 In 1937 only four runners lined up for the inaugural running of The King George VI Chase. It was an inauspicious start, perhaps down to a combination of relatively poor prize money – less than a tenth of that available for the Grand National – and that the race was held in February. The first race was won by the 12 year old Southern Hero, the 5/4 joint favourite. The best horse of that time, Golden Miller, never contested the race as his targets were The Gold Cup and The Grand National. This meant that the race was never regarded by the public as a true championship event. The 1938 running again attracted only four runners.
During the Second World War the course was closed from September 1st 1939 and used as a prisoner of war reception area. Racing resumed for the Easter meeting of 1947 and that same year the first post-war King George was run on Boxing Day.
It was in 1948 that the King George meeting was truly recognised as a genuine championship in its own right. Cottage Rake had already won the 1948 Gold Cup. 'The Rake' had to carry 12 stone and 6 pounds, conceding weight all round to eight rivals. The fact that the meeting was cancelled on Boxing Day due to a severe frost meant that the original day one card replaced day two. Jumping the last nobody gave Cottage Rake a chance, he was fully five lengths down to Roimond, but a turn of foot not unlike that seen at the end of a Derby race reversed this deficit – Cottage Rake crossing the line five lengths in front.
1949 saw the first televised running of The King George, and it produced one of the greatest finishes – Finnure, ridden by Dick Francis, beating Brabazon and Cottage Rake by less than a length, the other remaining runners a country mile behind them.
Twice during the history of the King George Chase the event has been run at Sandown Park, in 1995 because of snow and frost at Kempton Park and again in 2005 when Kempton Park was closed for redevelopment.
King George Chase Records
Most Successful Horses
Desert Orchid - 4 wins - 1986, 1988, 1989, 1990
Kauto Star - 3 wins - 2006, 2007, 2008
Most Consecutive Wins
Desert Orchid - 3 consecutive wins - 1988, 1989, 1990
Kauto Star - 3 consecutive wins - 2006, 2007, 2008
Most Successful Jockey
Richard Dunwoody - 4 wins - Desert Orchid (1989, 1990), One Man (1995, 1996)
Ruby Walsh - 3 wins - Kauto Star (2006, 2007, 2008)
Most Successful Trainers
Fulke Walwyn - 5 wins - Rowland Roy (1947), Mandarin (1957, 1959), Mill House (1963), The Dikler (1971)
François Doumen - 5 wins - Nupsala (1987), The Fellow (1991, 1992), Algan (1994), First Gold (2000)
Paul Nicholls - 5 wins - See More Business (1997, 1999), Kauto Star (2006, 2007, 2008)
For a full list of past winners see King George Chase Winners
2009 King George Chase Results
| Position | Horse | SP |
| --- | --- | --- |
| 1 | Kauto Star (FR) | 8/13 F |
| 2 | Madison Du Berlais (FR) | 10/1 |
| 3 | Barbers Shop | 14/1 |
| 4 | Nacarat (FR) | 25/1 |
| 5 | Imperial Commander (IRE) | 13/2 |
| 6 | Albertas Run (IRE) | 25/1 |
| 7 | Tartak (FR) | 25/1 |
| 8 | Our Vic (IRE) | 40/1 |
| 9 | Ollie Magern | 100/1 |
| 10 | Sandymac (IRE) | 200/1 |
| PU | Deep Purple | 17/2 |
| PU | Master Medic (IRE) | 33/1 |
| PU | Racing Demon (IRE) | 100/1 |